Wildtronics stellt Stereo Ambient Array Microphone vor
Das altgediente Crown SASS-P bekommt Konkurrenz: Wildtronics, LLC USA stellt sein neues Produkt namens SAAM (Stereo Ambient Array Microphone) vor. Bei dem SAAM von Wildtronics handelt es sich um eine verbesserte Version des im Field Recording beliebten SASS Produktes.
Das Wildtronics SAAM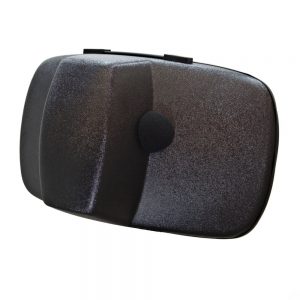 Das Wildtronics Stereo Ambient Array Mikrofon (SAAM) ist ein speziell entwickeltes System zur Erfassung von hervorragenden Stereo-Klanglandschaften. Die vom menschlichen Kopf abgeleitete Form bietet überlegene Stereotrennung und lebensähnliche Reproduktion. Die außergewöhnlich geräuscharmen Mikrofone und das konturierte Gehäuse erlauben es, die leisesten Klänge zu erfassen. Eingebaute, geräuscharme Vorverstärker erlauben es dem SAAM, mit nahezu jeder Art von Rekorder hervorragende Ergebnisse zu erzielen.
Laut Hersteller wurden zahlreiche Verbesserungen gegenüber dem Original erzielt, wie z.B. bei Pegel, besserer Frequenzgang, deutlich weniger Grundrauschen, sowie einem integrierten Vorverstärker um das SAAM an nahezu jedes Aufnahmegerät anschließen zu können.
Die XLR-Ausgänge sind transformatorlos, symmetrisch und erlauben lange Kabelstrecken.
Als optionales Zubehör sind derzeit ein zwei Windschutzüberzüge (schwarz und tarnfarben), sowie ein Dock für einen portablen Rekorder am Gehäuse erhältlich.
Fotostrecke
Technische Daten
(Laut Hersteller, ohne Gewähr)
Basic Dimensions: 19×11.25×8.25 inches Weight: 2 lbs 11ozs
Frequency Response: 20-20KHz
Sensitivity @ gain of 1: -23dB @1V/Pascal or 70mV/Pascal
Max SPL: 115dB @ 0dBu Output; 125dB @ +10dBu Output
Signal to Noise Ratio: 86dB Self Noise: 8dBA *
Preamp Gain: 1-46dB Preamp EIN: -129dBA
Headphone Gain: -15dB to 30dB (referenced to the XLR output)
Mix Input: 3.5mm Stereo Line Level, 6dB gain to output – 1K Ohm
Outputs:

Buffered XLR; +10dBu max output, 130 Ohm
3.5mm Stereo Line Jack (-12dB referenced to XLR), 1K Ohm
3.5mm Stereo Mic Jack(-24dB referenced to 3.5mm Line), 65 Ohm
3.5mm Stereo Headphone Jack

Powered By Any One of:

2 Channel, 48 Volt Phantom Power, 10mA/Channel max
9 Volt Battery, Rechargeable Lithium Recommended
7-18V DC External Power, 5×2.5mm DC Power Jack, Center (+)
Current Draw: 14mA, Using Headphones: 18mA, Using Low Mic Heat: 31mA, Using High Mic Heat: 65mA
9 Volt Alkaline Battery Life:
40 hours using microphones only
25 hours using microphones and headphones
15 hours using microphones and low microphone heater
7 hours using microphones and high microphone heater

XLR Connectors: Neutrik Gold Plated
3.5mm Connectors: Switchcraft
External DC Jack: Switchcraft
Metal Tripod Tread: 1/4-20
Internally Shielded from EMI/RFI
Maximum Docking Compartment Dimensions: 5.0x 7.0 inches
Low Cut Filters: 15, 80, 160 Hertz, 6dB per octave.
*Most noise is above 10KHz and may be post filtered, for an equivalent system noise of 4dBA
Preis & Verfügbarkeit
Das Wildtronics SAAM ist ab sofort und vorerst in begrenzter Stückzahl im Webshop von Wildtronics erhältlich.  Der aktuelle Preis beträgt 999,- US-Dollar, das sind aktuell rund 941,- EUR.
Der Windschutz kostet je 65,- US-Dollar (ca. 62,- EUR), das Rekorder Dock Kit 35,- US-Dollar (ca. 33,- EUR).
Hinzu kommen Versandkosten, Zollgebühren und 19% Mehrwertsteuer beim Import aus den USA nach Deutschland.
Mehr Informationen und Klangbeispiele finden sich auf der Webseite von Wildtronics: www.wildtronics.com