FieldRecording.de Umfrage Herbst 2014
FieldRecording.de soll stetig optimiert werden und mit der Leserschaft wachsen. Wir würden uns freuen, wenn ihr euch 2-3 Minuten Zeit nehmt und 8 Fragen zu den Themen "Premium-Content", "Workshops" und "Sondermagazin" beantworten könnten. Ihr habt die Chance FieldRecording.de mitzugestalten und helft uns das Magazin weiterzuentwickeln!
Die Umfrage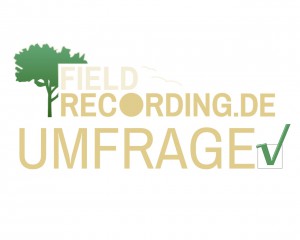 Alles was ihr tun müsst sind folgende Fragen beantworten und die Umfrage absenden (Klick auf "Fertig"). Das ist alles.
Die Umfrage ist noch bis 27.09.2014 online.
Vielen Dank für eure Mithilfe!
Sebastian-Thies Hinrichsen
Gründer & Chefredakteur FieldRecording.de
Create your free online surveys with SurveyMonkey , the world's leading questionnaire tool.