Positive Grid stellt mit Final Touch die erste Mastering-Suite für das iPad vor. Final Touch kombiniert die wichtigsten Mastering-Werkzeuge in einer einzigen App und sorgt so für ein ganz neues Mastering-Erlebnis. 
Dank der integrierten Mastering-Prozessoren sorgt die App für ausgewogenen, professionellen Sound mit dem typischen Klangverhalten analoger Signalprozessoren.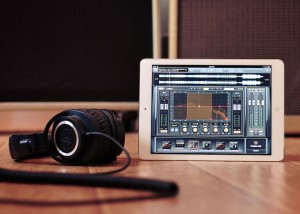 Auf Grund der langen Erfahrung von Positive Grid bei der Programmierung von DSP-Routinen auf dem iPad überzeugt Final Touch selbst Studioprofis wie Rafa Sardina (zwölfmaliger Grammy-Gewinner, u.a. Lady Gaga, Beyonce und Michael Jackson) und German Villacorta (Ozzy Osbourne, The Rolling Stones etc.).
Final Touch bietet die folgenden Mastering-Tools:
Phasenlineare Pre- und Post-EQs mit jeweils acht Bändern und fünf wählbaren Filtercharakteristika (Hi- und Lo-Shelf, Hi- und Lo-Pass, Peak).
Dynamikmodul mit äußerst flexiblem, vierbandigem Multibandkompressor für Stereo- und Mitte/Seite-Bearbeitung.
Stereo-Imaging für die Stereobreitenoptimierung sowie zur Korrektur von Balance-Problemen und Überprüfung der Monokompatibilität.
Reverb-Prozessor mit Hall-, Plate- und Room-Algorithmen zum Auffrischen übertrieben trocken aufgenommener Signale. Die Parameter Pre-Delay, Decay Time, Early Reflections und Room Size gestatten das individuelle Finetuning des Hallraums.
Der Maximizer arbeitet als klassischer Peak Limiter. Er erhöht den durchschnittlichen Spitzenpegel und sorgt so für mehr Lautheit. Ebenfalls in diesem Modul integriert sind umfassende Optionen für Dithering und Noise Shaping.
Audiodateien lassen sich per FTP, iTunes, Dropbox, Audio Copy und File Sharing in Final Touch übertragen und auf dem selben Weg wieder an die Außenwelt exportieren.
Die weiteren Key-Features im Überblick:
hochauflösende, sehr präzise VU-Meter
Bypass-Schalter für jedes Modul und jedes EQ-Band
Links-, Rechts-, Mitte- und Seite-Signale lassen sich unabhängig voneinander solo oder bypass schalten
Wellenform-Darstellung der Audiodatei mit verschiebbarem Cursor
100 Factory-Presets, unbegrenzte User-Presets (globale Settings und Modulpresets)
Reihenfolge der Mastering-Module per Drag and Drop veränderbar
glasklarer High-Definition Sound (double-precision, 64 Bit Rechentiefe)
unterstützt Inter App Audio und Audiobus
Preis & Verfügbarkeit
Final Touch ist ab sofort für 19,99 Euro im Apple App Store erhältlich. Die App benötigt mindestens ein iPad 2 mit iOS 7.
Weitere Informationen: www.positivegrid.com und auf den angeschlossenen Social-Media-Plattformen Twitter (@PositiveGrid) und Facebook (www.facebook.com/positivegrid).