Interview: Nicholas Sherman – The Maker of SOUNDTRACKER (ENGLISH)
FieldRecording.de had the chance to talk to Emmy-Award Winner, Field Recordist and "Sound Tracker" Gordon Hempton and Documentary Filmmaker Nicholas Sherman from the movie SOUNDTRACKER.
Nicholas Sherman – Documentary Filmmaker and Hobby Field Recordist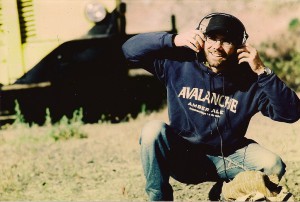 In the first part of our interview two-parter young filmmaker Nicholas Sherman gives us an exklusive insight in the origin story of his Dokumentation, how it came to the idea and the cooperation and brings us the human Gordon Hempton somewhat nearer.
FieldRecording.de: Nicholas, how did you get so young into producing films?
I studied Philosophy at University and then pursued a Graduate degree in Film Production so that I could make films that dealt with some of the same questions I loved asking in philosophy. I was lucky enough to apprentice under Frederick Marx, who directed Hoop Dreams, right out of film school and he and I shot a film in the Himalayas called Journey From Zanskar.  Upon my return from India, I felt prepared to produce and direct my own feature length documentary and quickly began searching for the right subject matter.
FieldRecording.de: How did the idea for the film come from?
I have always been interested in contemplation, nature, and individualism.  One morning I was reading a newspaper and there was an article about Gordon Hempton and he seemed like a guy who embodied three of my great interests, so I quickly reached out to him to see if he would be interested in being the subject of a film.
FieldRecording.de: How finally came it to a collaboration with Gordon Hempton?
We did a practice 2 day shoot to answer many questions, e.g.,  – would we get along?  Would we be able to film without disrupting his recordings? What would the film be about?  By the end of the weekend, we planned a larger shoot which would take place a few months later.
FieldRecording.de: How would you describe Gordon Hempton to someone?
People always think he would be awkward and closed off because he spends so much time in solitude, but actually he's quite the opposite.  He's very social and makes friends with strangers quite easily.  He spends so much time alone with his thoughts that when he does have encounters with living, breathing humans, he's usually the life of the conversations and is eager to share the many new ideas that have come to him during his solitude.  And he's deeply committed and passionate to his work in a way that is seldom seen.
FieldRecording.de: What makes Hemptons field recordings so special, in your opinion?
Technically, they're amazing.  But the most precious part about them is all the work that goes into the search for them.  Many recordists spend a lot of time researching gear, mic placements, and the like.  Gordon settled on many of those decisions long ago and has stuck with them.  Now most of his work is exploring the world, and finding the right place to listen.  For every recording that he releases, there are hundreds if not thousands, of similar recordings that were close, but not perfect.  He's always after perfection.
FieldRecording.de: Was there a script, or were you simply guided by Gordon's work?
If there was a script, I don't even remember anymore, it was thrown away immediately.  The story of Soundtracker evolved organically, as I believe all great stories do.  It took us by surprise when he suddenly started recording trains.  We thought it might last a day or two but he really pushed it to the limit.  There were many times I had to ask myself what all this train-hunting had to do with the other aspects of his work – I was concerned the film was going off on an impossible detour, but in the end, it offered the perfect example of what goes into each and every one of his recordings, nature or man-made.
FieldRecording.de: Was SOUNDTRACKER planned as a tv documentary, or as a movie?
As a documentary film, but there wasn't much of a plan.  And no funding.  Totally independent with a 2 person crew.
FieldRecording.de: On what material did you shot?
HDV.
FieldRecording.de: Have you used Gordons original recordings for the film?
Yes, as much as possible.  The trick was to make the viewer aware of when we were listening to Gordon's amazing sounds and to not confuse them with the film's vastly inferior production sound.  We gave them names, and called them out with titles and a sound recording beep to highlight the beginning of his recordings in the film.
FieldRecording.de: How big was the team around you?
We were two people, including myself.  I directed, produced, and recorded audio while my cinematographer shot the film.
FieldRecording.de: Do you remember special moments or situations during the filming?
We lived like vagabonds during the production of the film, sleeping on the side of the road, in tents, in cars, we only stayed in a hotel once a week to recharge batteries.  It was a lot of fun!  One particularly special moment came when we were in a valley called Pipestone Canyon which has amazing natural reverb and beautiful meadowlarks.  We were up at 4am to capture a dawn recording but Gordon was faster than us and caught us by surprise – when he started his recording we weren't set up – but it was too late – there was an unwritten rule that when he pushed the record button we had to stop in our tracks, whether we were ready or not.
So on this one morning we were stuck for about an hour from 4:45 AM to 5:45 AM, in a very uncomfortable position – the tripod was on my shoulders and my muscles were beginning to cramp and it was very cold.  We were in a lot of pain but then after about 40 minutes of quiet we heard the most amazing blue grouse call and it made it all worth it.  That sound is in the film but it's not quite as precious because it was the 40 minutes of silence before it that made it particularly unique – unfortunately that's almost impossible to recreate in a film.  There were many other moments like that didn't have a beautiful blue grouse to redeem them and we often found ourselves praying for an airplane to pass over head so we could find a new position!
FieldRecording.de: Are you going to continue documentaries with artists or even Field Recordists?
I'd like to make another film about sound that focuses less on an individual and more on sound itself.
FieldRecording.de: What is your next project?  I'm currently shooting a film about a tribe of Amazonian Indians, called the Cofan, and their struggle to save their rainforest in Ecuador.
FieldRecording.de: Are you also Field Recordist? If so, what do love to record the most and what equipment do you use?  I'm just a hobbyist and my recordings aren't very good unless Gordon lets me use his equipment!  Now I just listen without recording, and appreciate the places in my own special way.
Thank you very much Nicholas for the interview and we wish you all the best and continued success as a  filmmaker!
Preview on interview
2/2
In the second part we will interview the man who plays the lead role in Nicholas movie. He is probably one of the most famous Field Recordists of the world, Emmy-Award Winner and really a nice guy: Gordon Hempton.
Photo Gallery