Interview: Stuart Fowkes – Cities and Memory (ENGLISH)
FieldRecording.de was able to catch up with Stuart Fowkes, founder and owner of the website "Cities and Memory", for an interview.
You can find the interview in German HERE.
Stuart Fowkes – Sonic tourist and sound mapper "On Her Majesty´s Service"
The 35-year-old Stuart Fowkes from England runs, beside his job as Head of Digital Communications at the University of Oxfor, "Cities and Memory, the most well-known website about the topic sound mapping on the internet.
FieldRecording.de: Stuart, how and when did you get into field recording?
I've been field recording for a little over ten years now – I first started by coming into it from the sampling route through music. My former band, Sunnyvale Noise Sub-element, used a lot of samples in its music, whether more obvious sampling like vocal cutups from television through to making every drum hit and synth sound from distorting and manipulating field recordings. I'd spend hours scouring for samples online, recording from obscure movies and so on, before moving into recording in the field after about a year to bring environmental recordings into a musical context.
After that, I made a habit of field recording in various locations as I travelled around, building up a database of field recordings. My last band, Listing Ships, took a nautical approach to all of its pieces, compositions, artwork and titles, which meant recording in coastal and island locations and bringing field recordings back into the music. Over time, I became interested in doing something more with the bank of field recordings I'd collected, and doing something that was, musically speaking, more free than fitting recordings into a song context.
I'd been experimenting with making new sounds from field recordings for many years, and it felt like the right time to crystallise this into something with a clear vision. So I've always come at field recording from a musical and compositional context, which I suppose explains where the original idea for Cities and Memory and my overall approach come from.
FieldRecording.de: What type of equipment do you use at the moment?
Pretty basic stuff, comparatively – I mostly use a Zoom H4N portable recorder, which gets good enough results for me and, important, is very handy and easy to take everywhere so if I hear an interesting sound, I can record it. I also have JRF D-series hydrophones for underwater recording and coil pickup mics too. When I don't have my recorder with me, I've captured a few sounds on my mobile phone too – some serviceable recordings from the onboard mic on a Galaxy Note.
FieldRecording.de: What experiences have you made with different types of equipment?
Previously I used an Edirol R-09, which was OK but very limited, and I'm hoping to upgrade to something like a Zoom H6 over the next year, perhaps.
FieldRecording.de: How do you edit your recordings, and what tools do you use for it?
If you're talking purely about editing the field recordings, rather than the reimagined or remixed versions, then I use Audacity for the most part to trim, edit, compress and normalise, and sometimes I use Reaper if I need to produce a composite field recording from several clips. I try to do as little editing as possible beyond topping an tailing and normalising, as I do want the field recordings to be true documentary recordings, but occasionally I need to combine or do further editing. If you're talking about the reimagined versions, anything goes! Live instruments, trackers, VSTs, MIDI synths, various sound-mangling tools – anything to achieve the desired results.
FieldRecording.de: What sort of field recordings do you like the most? Originals, documentary field recordings, or kind of artistic sound collages?
I think that depends. For me, it's about field recordings that capture a sense of place and time, or that take me to a place in a convincing or unique way. A good field recording to me has a transportive quality that makes you feel like you've experienced something of the unique essence of that place. I'm also attracted to field recordings that sit in a particular moment in time, capturing something of how a place sounded at that moment in time, since how places sound can change just as much as how they look. Archiving how our cities and countries sounded is just as important as having a visual record.
Having said that, generally since I come from a musical background, the idea of doing something interesting with a field recording generally interests me more than the documentary aspect, in terms of what I'm most likely to spend my time listening to.
FieldRecording.de: Do you have any role models in case of field recording?
I won't say Chris Watson, because everyone says Chris Watson(!). I really like Simon Scott's work – for instance, his album 'Below Sea Level' works as a field recording document of his environment in the English fens, and as a beautiful ambient record (http://www.12k.com/index.php/site/releases/below_sea_level/). It's a masterful blend of the two and very artfully packaged too – in fact, a lot of what 12K release is really interesting and much of it field recording-related. I also enjoyed 'Postcards from Italy' too (http://www.archivioitalianopaesaggisonori.it/archivio/postcards-from-italy), in which participants were asked to take field recordings in their respective locations, which were then redistributed among the group for reworking and processing.
FieldRecording.de: Which field recordists or sound artists do you listen currently and/or listen the most?
Stuart Dempster's work recording inside spaces with reverb so enormous it's almost alien is wonderful and bears many repeated listens. In terms of other artists, musically Eluvium, William Basinski, Stars of the Lid, Barn Owl, Benge, Aix Em Klemm, Cluster and many others excite me.
FieldRecording.de: How and when came the idea for Cities & Memory?
It came about through several things happening almost simultaneously. Firstly, in my experiments with field recordings I became interested in creating the sounds of places that couldn't possibly exist, but that sounded like feasible soundscapes if you listen to them. For instance, if you mix birdsong from an English garden with sounds from the Grand Bazaar in Istanbul, that place cannot exist but instead creates a new sonic environment.
Around the same time, I was reading Italo Calvino's masterpiece Invisible Cities, in which the explorer Marco Polo recounts fantastic tales of faraway cities he's visited to Kubla Khan. Over time it becomes clear he is simply describing his home city of Venice in many different way and from different perspectives – the essence of a place is not fixed, but depends on the perspective of the individual (in fact, the name Cities and Memory comes from one of the sections of this book). Combining these two ideas and these two perspectives, the idea for Cities and Memory came into focus.
FieldRecording.de: How came the idea for being sound mapping the topic and why was it clear for you, that Cities & Memory will be a sound mapping project?
I've always been fascinated by cartography and maps in general, and how they necessarily present a subjective view on the world. Sound mapping is particularly interesting, and I knew from the beginning that there was going to be a mapping element to any pure sound project I undertook. The question was really how to offer something a little different, given the proliferation of sound maps out there, from the comprehensive global efforts of Aporee through to city sound maps and sound maps themed around topics like travel etc.
I also knew that I couldn't hope to produce anything of the sheer scale of Aporee or the recent British Library UK sound mapping project, so whatever I did had to bring something new to the party, or there was little point doing it.
FieldRecording.de: What makes sound mapping so interesting?
I think through the combination of location and sound, at its most basic level. You can explore Google Maps or Flickr or any number of other avenues to see how a place looks using a map as your first point of entry and we now expect this as a basic piece of information, but to hear how a place sound using a map interface still has the capacity to surprise in terms of how immersive an experience it can be.
We can see how a place looks, but no one really tells us or shows us how a place sounds, and you can get a lot of the character of a place from the listening experience. And of course by laying out Cities and Memory on a global map, I set myself the implicit challenge of covering it with sounds, and therefore beginning a sonic journey around the world, with the help of many collaborators.
FieldRecording.de: For what stands Cities & Memory for?
I'd like to think Cities and Memory represents a place where anyone who has an interest in how their world sounds can explore and experiment. What excites me is the infinite possibility – different places sound radically different according to the time of day, and any two sound artists will remix the same source sound in different ways, so there's an endless stream of imagination and sound that could come from this.
Cities and Memory is a place where people can explore their own environment and think both about how it sounds and how it could potentially be, but also to explore the sounds of the world, both unfiltered and filtered through the imagination of others.
FieldRecording.de: What was your first city on the soundmap?
Appropriately, the very first sound was in Oxford, UK – where I'm based – though it was not then systematically sound mapped before anywhere else. The sounds have been added to the map as they've come in, and I'm really happy to have got 20 countries on the map within the first ten months of the project running, and a steady stream of new collaborators and colleagues. The very first sound was one of ducks on the river and a train passing overhead on the River Thames.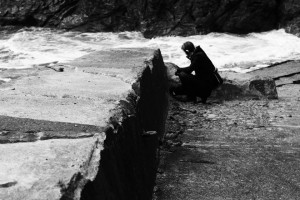 FieldRecording.de: How do you choose the city/location for a new project?
A mixture of the practical (can I get there easily myself?) and the sonic (how will that city sound? Does it have unique sonic features I won't be able to hear elsewhere?). Research beforehand helps me to best guess which places might be sonically interesting and create a shortlist to draw from, as with the recent #Hamburgsounds project.
FieldRecording.de: Are you planning your field recording trips, or are you spontaneous under way?
For the most part, I don't systematically add places or cities comprehensively – I work through my catalogue of sounds according to when inspiration strikes for a reinterpreted version. I might, for instance, one day have an idea of what to do with a sound from Milan, and the next day move on to Los Angeles or London. It's dictated by sound, not place.
On top of that, there's a regular flow of new field recordings and new remixed sounds from all over the world, and I've no idea where they'll be coming from next! However, every few months I like to plan a sound-gathering trip in a specific place to help 'top up' the bank of field recordings or to add a new place to the Cities and Memory global sound map.
FieldRecording.de: Who else is involved in the project?
It's a completely open project, which means field recordists, sound artists, musicians or anyone with an interest in sound can take part, wherever they are in the world. Some people send in pairs of sounds (a field recording and their own reinterpretation). Others prefer to send in a field recording from where they are but would like others to remix it.
And others don't have field recordings to offer, but want to experiment with a sound from our catalogue. So really there are three ways for people to contribute actively – so far this year, more than 50 people have contributed sounds or remixes to the map.
FieldRecording.de: You´re running Cities & Memory on the side?
Yes, at the moment Cities and Memory is an entirely voluntary project I run outside my daily working life. If I could work out a way of making a living from it, I'd love that!
FieldRecording.de: Do you know the field recordists and remixer and what kind of people are they?
A few of them I knew personally in advance, and many others I've actually become friends with through Cities and Memory – it's opened up a world of friendly, inspiring sonic collaborators to me. This was especially apparent when setting up the #Hamburgsounds project, and asking several previous Cities and Memory contributors if they'd like to take part – 90% of them were delighted to get involved with the project. I've also met a few contributors and fellow field recordists on my travels – including you, Sebastian! – which has been a terrific experience. I don't think there's anything specific that people have in common other than sonic curiosity and a willingness to approach things from a new angle and be open to the many possibilities that sound can offer.
FieldRecording.de: How much time do you spend in the nature for your recordings?
Not as much as I'd like! Most of the recordings I've made myself tend to be from urban environments, but I'd really like more nature recordings in the project. I tend to catch recordings wherever I can, wherever I happen to be, and by circumstance that's mostly urban. I also wonder if the name Cities and Memory makes contributors think I'm only interested in urban soundscapes – far from it! If you're reading this and you're sitting on a bank of great nature recordings, please send them to me!
FieldRecording.de: You´ve visited Hamburg in early October for your new project "One day in the live of Hamburg". I was honored to accompany you on the first day. Please describe for the readers out there, how you picked Hamburg and how did you prepared yourself and who experienced Hamburg (sonically).
The honour was all mine! 🙂
The project was to spend several days in a city mapping its sounds in as much detail as I could, then offer those sounds up to people around the world to reimagine and reinterpret on their own terms, with the results released over 24 hours to represent a day in the life of a city. I chose Hamburg as it met most of my rough criteria for the project – a big, interesting city known for many things that would therefore offer up a varied range of sounds for me.
I also wanted a city with history and heritage – important when considering and reflecting the 'memory' element of the project. Personally, for the city to have maritime heritage was important as I love the sounds of sea and ships – and it also helped that Hamburg is pretty straightforward to get around for a huge city, with excellent transport networks and so on. So some idealistic criteria, and some boringly practical!
I prepared myself by reading about the city, learning about its history (and geography) and making a rough shortlist of places I knew I definitely wanted to record and places I thought could be interesting, but leaving enough flexibility in my itinerary to explore freely and to allow for random chance. I recorded what I imagined the experience of mapping Hamburg would be like before I left in this blog post  (http://citiesandmemory.com/2014/10/sound-map-city-part-one/) and then reflected on this once I got back in this blog post (http://citiesandmemory.com/2014/10/sound-map-city-part-two/).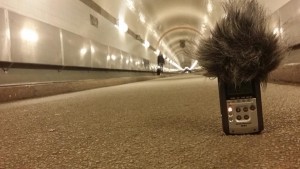 It was a tremendous help and a great introduction to the city to spend the first evening with Sebastian from FieldRecording.de – getting a fellow field recordist's perspective on how the city sounded was invaluable (for this reason I didn't explore the sonically-dull Speicherstadt, but I did catch excellent sounds in the Elbtunnel and at Baumwall, for instance), and it was a lot of fun to spend time recording together and to share perspectives over dinner afterwards.
In terms of how Hamburg sounds – as you might expect, it's a hugely varied place. Large swathes of it, as with any major city, are not interesting to listen to as you tramp through suburbia, but there were some amazing highlights. To name a few: the beautiful organ in St. Michaelis church; the classic sounds of ships in the harbour; the amazing Willkomm Hoeft, which greets ships as they enter and leave the city; the nightlife of St. Pauli; political protests in Neustadt and the subterranean reverb of the Elbtunnel under the River Elbe. A beautiful city!
FieldRecording.de: Do you already have plans or ideas for another (city-) project?
I think there will be another 'formal' recording project sometime next year, but I've not considered where yet, so we'll see in 2015. I also spend a lot of time in northern Italy, which is where my girlfriend is from, so I've focused quite a lot on sounds from that amazing country – it has the most mapped sounds behind the UK (and now Germany). Venice is also the beating heart of Cities and Memory for several reasons: firstly, because of Calvino (see above), but also because I've spent a lot of time there and because it's one of my all-time favourite unique sonic environments. Unusually, just as Venice is completely unique to look at, it also sound completely unlike anywhere else.
FieldRecording.de: Do you have any tips or tricks for new field recordists out there?
I actually wrote a post about this on the site! http://citiesandmemory.com/2014/03/ten-top-simple-field-recording-tips/
That post covers my basic technical tips, but I think when you start out there's a tendency to think that everything you've recorded is absolute gold dust and the best thing ever, so you head off and record all the field recording cliches in the book as if you're the first person ever to do them: stations, shopping malls, rivers, waves etc. To some extent you need to do all this to practise recording and to 'get it out of your system', but the skill of editing and knowing what to pick out, what's unique and what really captures the spirit or essence of a place is one that needs to be honed and learned.
FieldRecording.de: One last question: How has field recording influenced your live and hearing?
Hugely. Photographers talk about taking photos changing the way you look at the world – for field recordists, it's the same for sound. It changes how you listen, and therefore how you experience the world. I'm always listening out to reverbs, echoes, natural sounds, unusual things in the sonic environment and thereby noticing things that most other people just don't spot. It makes me into a sonic tourist wherever I go, and I can find something to appreciate in every environment, from the mundane and everyday to the spectacular and novel. My hearing's already ruined from years of playing bass in loud bands, so it's not affected my hearing, just the way I listen!
FieldRecording.de: Thank you very much for taking your time and answering all of our questions!
Thanks for asking them! I hope people found them of interest and I'd be happy to chat with any of your readers if they want to get in touch: http://citiesandmemory.com/submit-your-sounds-contact-us/

Links:
Cities and Memory: www.citiesandmemory.com
Mit Cities and Memory auf Field Recording Tour durch Hamburg